Melbourne Cup 2013 Preview
Nov 04, 2013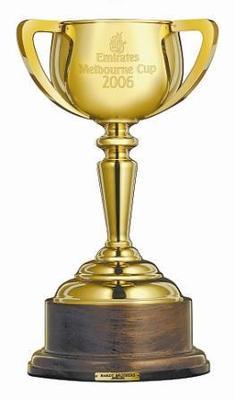 1) Dunaden – This horse has more stamps on his passport than…. uh, someone who travels a lot. Won this race in 2011 but not going well enough at present.

2) Green Moon – Last year I said 'Nope to the power of nope, times nope' – and he won. Yep to the power of yep, times yep? Nope…

3) Red Cadeaux – 2nd in this race before and seems to be a bit of a forgotten runner. Has barrier 88 which makes it tough, but should be around the top half.

4) Sea Moon – Same owner as Green Moon. They like Moons. I am not sure he will get the distance…like me at a buck's party.

5) Brown Panther – Deceiving name, as I am fairly certain he is a horse. Actually has good form over the distance and plenty of people in the know are talking about him. I am neither talking about him, nor in the know…but you knew this.

6) Fiorente – 2nd last year and probably going even better this year. Good jockey, good barrier, good preparation, good hopes… 2nd again?

7) Foreteller - Good but not great, like my mac n cheese… Will run a very honest race, but probably not up to the top few. Will run an awesome 9th

8) Dandino – Uber consistent galloper who has also travelled the world. Cracking run in the Caulfield Cup and should be somewhere in the finish. My 5th pick.

9) Ethiopia – More like EthiNOpia.

10) Fawkner – Was flattered by a genius ride in the Caulfield Cup but won't get all the favours tomorrow. You can't include all of them and I won't be including him. That should be enough for you to have your house on him.

11) Mourayan – My Mum always said 'If you can't say anything nice, don't say anything at all'. I've said too much…

12) Seville – There's an opera called The Barber of Seville. My barber charges me $12 per haircut. This horse is number 12. Coincidence?! I think not… My 1st pick.

13) Super Cool – To not include him you'd be a Super Fool. This is my Super Rule. You may even be able to buy a Super Jewel? Yes, I'm a Super Tool…

14) Masked Marvel – This guy races like he is masked, blindfolded, hoof-cuffed etc, he is simply all over the joint….The Snoop Dogg of the race.

15) Mount Athos – 5th last year but probs should have won. Named after a Greek mountain. The more you know… My 4th pick.

16) Royal Empire – I know nothing about this runner, which hasn't stopped me making wild, uneducated assessments in the past. Do not want.

17) Voleuse De Coeurs – Means 'Thief of Hearts' according to a 3 second Google search and the internet never lies. This girl is growing on me... My 6th pick

18) Hawkspur – Looks to be one of the only Aussie hopes, but I cannot see him getting the trip. Will finish an outstanding 10th

19) Simenon – Will absolutely run all day. I think he ran 3rd in a Sydney to Hobart Yacht Race once. Might not have the speed of the others but will be in the mix. My 3rd pick at odds…

20) Ibicenco – More like IbicencNO.

21) Verema – Quality mare from France, the Bridgette Bardot of the field. One for the exotics…

22) Dear Demi - Such an honest mare who will carry no weight. Has to be in the calculations. My 7th pick

23) Tres Blue – Google reckons it mean's 'Three Blue'. Cool cool.

24) Ruscello – More like RuscellNO.